Everyone Outreach is a program designed by WELS' Commission on Evangelism. The commission exists to encourage and equip congregations and individual Christians to proclaim the good news of salvation through Jesus Christ.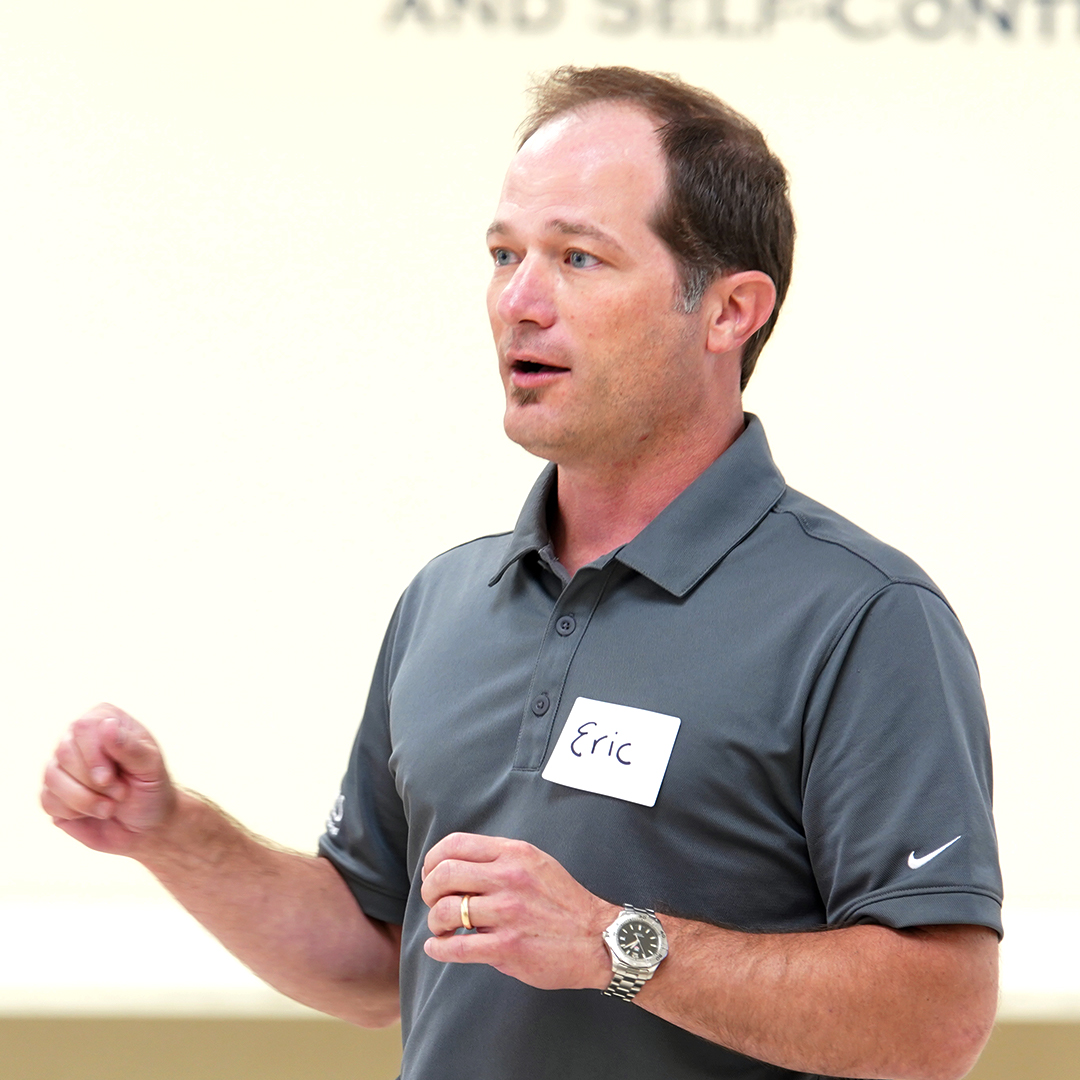 Pastor Eric Roecker began his ministry at Resurrection Lutheran Church in 1998 with a passion for reaching the unchurched in the community of Virginia Beach, VA. The Lord blessed Resurrection's ministry and in 2007 the congregation moved to a larger facility in nearby Chesapeake. After fifteen years of service in Virginia, he accepted the Lord's call to serve Pilgrim Lutheran Church in Menomonee Falls, WI. In 2018, he began serving as WELS' Director for the Commission on Evangelism.
He brings a love for the lost and more than twenty years of outreach experience to the Everyone Outreach workshop. He lives in Menomonee Falls, Wisconsin with his wife, Mary, and two children, Rees and Riley.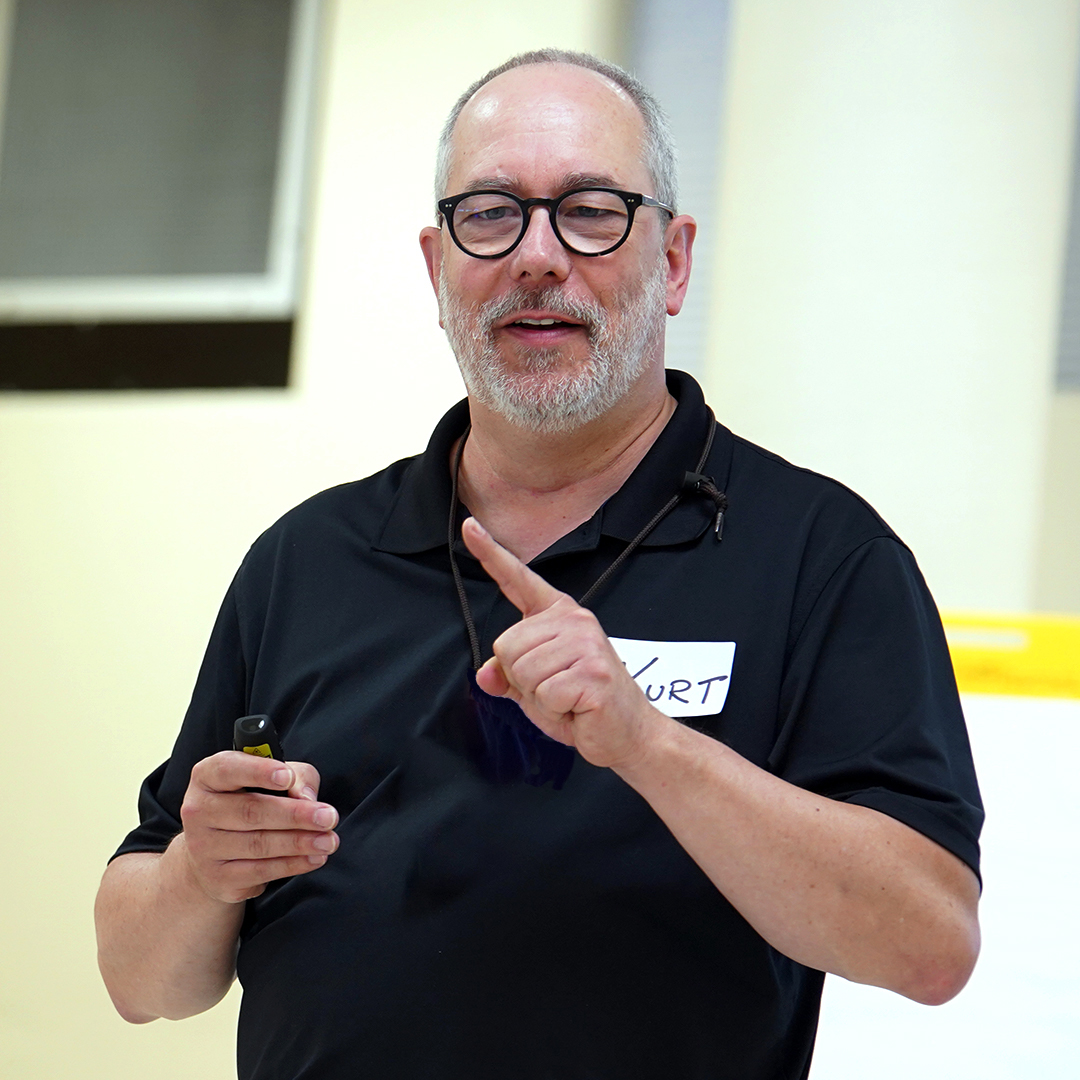 For more than 20 years, Kurt has been leading culture transformations that enable organizations to achieve previously unattainable results. He currently works as a consultant focused on organizational culture shaping and has facilitated culture workshops worldwide, including in the US, Italy, South Korea, Taiwan, Japan, and Malaysia.
He has also experienced a spectrum of congregational cultures, having been a member of churches in over half of WELS' districts as well as under the pastoral care of WELS' Chaplain in Europe.
Kurt currently serves on the WELS Commission on Congregational Counseling. He and his wife Kristin are members of Christ Our Savior Lutheran in Rockford, Michigan.
In 1997, Pastor Darin Aden began his ministry in Home Missions helping to start Risen Savior Lutheran Church in Woodbury, Minnesota. He later served as the Outreach Pastor at Bethany Lutheran Church in Appleton, WI. He and his wife Karla currently serve at St. John-St. James Lutheran Church and School in Reedsville, WI. They are blessed with four children: Lydia, Maya, Joshua, and Anna.
Darin has found great joy in serving as a School of Outreach and Telling the Next Generation presenter and is honored and excited to serve as a facilitator for Everyone Outreach.
Pastor Jon Bergemann began his ministry at Trinity Lutheran Church in Woodbridge, Virginia—a bedroom community of Washington, D.C. After 15 years on the East Coast, he accepted a call to a suburb of Chicago at Good Shepherd Lutheran Church in Downers Grove, Illinois.
Pastor Bergemann serves on the WELS Commission on Discipleship, the Pastor Partners Mentoring Program and Lead Mentor Team, the editorial staff of Teach the Word Newsletter, and is a contributor to the Preachers Podcast.
He and his wife Amanda (Traucht) are blessed with two children: Ella and Micah. He enjoys visiting the museums and pizzerias of Chicago when not escaping to the lakes of Northern Wisconsin to fish.
Pastor James Borgwardt began his ministry as a Mission Explorer in Savannah, Georgia in 1997. The Lord blessed the work as he, his wife Heidi, and a small core group of initial members established Risen Savior Lutheran Church and Risen Savior Christian Academy in nearby Pooler, Georgia. Both the church and the school quickly became self-supporting.
After fourteen years in Georgia, he accepted the Lord's call to lead the evangelism efforts of Redeemer Lutheran Church and School in Fond du Lac, Wisconsin in 2011.
His wife Heidi and their four children, Jacob, Anna, Ella, and Miriam, also share a love for the lost.
Pastor John Borgwardt was born in New Ulm, Minnesota, and grew up in Appleton, Wisconsin, and later Waukesha, Wisconsin. He graduated from Wisconsin Lutheran High School in 1989, Northwestern College in 1993, and Wisconsin Lutheran Seminary in 1997 after serving his vicar year at Divine Word in Plover, Wisconsin.
He married Sara Bode in 1996, and God has blessed them with three children: Emery (23), Nathanael (20), and Judah (16). His assignment out of seminary was to Good Shepherd, Kearney, Nebraska, where he served for five years. In 2002, he accepted a call to start a mission congregation in Waukesha, WI where he currently serves. He also serves as a member of the district mission board of the Southeastern Wisconsin District.
Aaron Bublitz has served Heritage Lutheran Church and the community of Gilbert, Arizona, in the greater metro-Phoenix area since July 2019. Previously he served for eight years in urban ministry on the northside of Milwaukee at Mt. Lebanon Lutheran Church and School.
In addition to his ministry at Heritage and serving as an Everyone Outreach presenter, Aaron is privileged to serve on the WELS Commission on Discipleship, as the Diaspora Ministry Facilitator for the One Africa Team, and as a teacher for 316NOW.
Aaron has been blessed to be married to his bride and best friend, Laura, for 24 years. They have three children: Micaiah (17), Arianna (15), and Keturah (11). In their free time, the Bublitz family loves to hike the desert of southern Arizona, travel throughout the beautiful southwest, and cheer on both Wisconsin and Arizona sports teams.
Pastor Nathan Buege has been privileged to serve Victory of the Lamb Lutheran Church, Katy, TX since 2002. His passion is meeting new people so that he can teach the Bible to them in a vivid, relatable way.
He lives in Katy with his wonderful wife Amy, and together they enjoy their four children Abigail (20), Ethan (18), Marissa (15) and Daniel (12).
Pastor Julius Buelow has served as an associate at St. Paul's in Saginaw, Michigan, since 2018. He learned the blessing and joy of seeing just one soul saved through Jesus when his dad was a missionary of two small congregations in Sweden. He learned the joy of seeing many souls saved through Jesus when he served as an intern under the resident missionary at the rapidly growing Immanuel Lutheran Church in Appleton, Wisconsin.
He is married to Nicole and has three children, Eliana, Obadiah, and Malachi.
Pastor Norm Burger has served Shepherd of the Hills Lutheran Church in Lansing, Michigan, since 1986. He has served as the coordinator of the Michigan District Evangelism Commission for the past 10 years. He also serves as a counselor for the WELS Commission on Congregational Counseling, assisting congregations with establishing a biblical foundation for ministry, ministry analysis, and ministry planning.
Norm has a heart for evangelism and encouraging and equipping God's people to share Jesus with others. He lives in Grand Ledge, Michigan with his wife, Betsy. He has two grown sons, Ben (married to Brooke) and Mark.
Pastor Tim Dolan serves as Coordinating Pastor at Immanuel Lutheran Ministries in Greenville, Wisconsin. He has served in the ministry for 21 years in mission, congregation, and school settings. Currently, he serves on WELS Administrative Committee for Native American Missions.
Pastor Tim Flunker was born in Iowa, lived in Kansas, then Puerto Rico before spending his educational years in Nebraska and Wisconsin, graduating from the Seminary in Mequon in 1993.
He then served in Flower Mound, TX for six years; Mexico City, Mexico for three years and Green Bay, WI, for six years, where he began to work as a consultant in ethnic minority ministries, serving the districts in the state of Wisconsin focusing on Spanish. In 2009, the Board for Home Missions called Tim to be their Hispanic Outreach Consultant. Since then, Tim has worked to help congregations throughout the United States both begin and enhance their outreach and ministry to Hispanics. 
Tim married Terri in 1992 and they are blessed with three children: Charles, Amelia and Michael; and three precious grandchildren: Zooey, Isaak and Ava.
Since the late 1990s, Pastor Hackbarth has gained valuable experience in various ministry settings, in both large and small congregations alike—from the WELS heartland in Wisconsin to southern California, to affluent suburbs and slower-paced small towns. Together with his wife Jenny, he has experience in developing outreach ministries through preschool and other child and family ministries, helping congregations embrace an outward focus, and fostering the ability to view things through the eyes of those new to the faith and the church.
Pastor Hackbarth currently serves at St. John Lutheran Church in Sparta, Wisconsin. His wife serves as the director for a large early learning center at First Lutheran in La Crosse. They are blessed with two children, Ayden and Addison.
Pastor Steve Hahm began his ministry at First German Lutheran Church in Manitowoc, Wisconsin. His outreach efforts included working with the Hmong-speaking families of First German and assisting in training their first Hmong pastor.
From Manitowoc, Pastor Hahm and his family moved to Baton Rouge, Louisiana, to serve at Cross of Glory Lutheran Church. In 2016, Pastor Hahm accepted the call to serve as the associate pastor at Christ Our Savior in Rockford, Michigan. His primary areas of service are in youth ministry and evangelism.
Married to Heather, Pastor Hahm has four children, two sons-in-law, and four grandchildren.
For over twenty years, Pastor Dan Heiderich has been blessed to serve in varied congregations across the United States. Whether it has been in a large congregation in a tiny town or a new mission in a rapidly growing city, the power of the Gospel and good news in people's lives has been evident.
Dan currently serves as pastor of Good News Lutheran in Lehi, Utah. He and his family serve alongside one another in the new mission setting. Along with the members of Good News, they enjoy getting to know their new community and connecting people with the Good News.
Dan is married to Amanda. They are blessed with four children, three on earth and one with her Savior in heaven.
Pastor Matt Holtz began his ministry at Grace Lutheran Church in Prairie du Chien, Wisconsin, in 2001. After ten years of service in Wisconsin, he accepted the Lord's call to serve Shepherd of the Hills Lutheran Church in Greeley, Colorado. In 2018, he began serving as Outreach and Family Ministry Pastor at St. Paul Lutheran in Appleton, WI.
He and his wife Amy have six children Madelyn, Jonathan, Lucas, Kody, Samuel, and Silas.
Pastor Kent Holz was blessed to grow up in a large church and Lutheran grade school in Belle Plaine, Minnesota. He has been serving as a pastor in mission-minded congregations since 1998. He began his ministry at Abiding Peace Lutheran Church in Simpsonville, South Carolina, and served from 2003–2008 at Word of Life Lutheran Church in Appleton, Wisconsin. In 2008, he accepted the call to serve at Beautiful Savior in Clarksville, Tennessee. His varied experiences have had him leading worship in campgrounds to clubhouses and gymnasiums to established churches.
A constant throughout his ministry has been an emphasis on reaching the lost and the unchurched with the Gospel of Jesus Christ. He lives in Clarksville, Tennessee with his wife, Pamela. They have been blessed with four children: Nathan, Joel, Adam, and Lydia.
Pastor Paul Horn grew up in Rhinelander, Wisconsin before moving to Milwaukee his seventh-grade year, where he attended the historical Grace Lutheran Church in downtown Milwaukee. While at the seminary he spent his vicar year in Salt Lake City, Utah, learning the culture of Mormonism to better reach them with the gospel.
He began his ministry at a mission congregation in 2004 in Radcliff, Kentucky, where he and his congregation primarily reach out to connect the troops and their families stationed at Fort Knox to Christ. In 2014, he moved to Hiram, Georgia, a suburb of Atlanta, with a desire to connect the unchurched to Jesus. In 2019, he moved to serve at another mission church in West Lafayette, Indiana, where he serves as pastor of Lamb of God Lutheran Church and a campus pastor at Purdue University. He has served as a District Worship Coordinator and currently serves as chairman of the WELS Military Services Committee. Pastor Horn is married to Becky, who teaches third grade at a local public school. They have been blessed with five children (Ethan, Jason, Sophia, Calliope, and Henry).
Pastor Jesse Johnston grew up attending a mission church in rural, retirement Florida. At church, folks were family. Reaching the unchurched was a reoccurring ministry focus there.
For just over a decade now, he has pastored God's people at Mt. Calvary Lutheran Church in Menasha, Wisconsin. Trusting the power of God's Word to make spiritually dead people alive, he shares the message of Christ in the Bible with church members and anyone else who will listen. Through the Spirit's work, God makes these folks his family.
He is blessed to be married to his wife, Jessica, with whom he is raising six young children.
Pastor Phil Kiecker has been at Gethsemane Church in North Raleigh for the entirety of his ten-year ministry. Through everyday outreach at their five-star Early Childhood Center, God has developed the congregation into a growing, diverse, Christ-centered family. In 2018, they completed an expansion of this center to serve 78 families. In 2020, they acquired funding to plant a second site in Durham, NC.
He loves to work with people of a variety of cultures and is excited to use his experiences to help congregations build outreach cultures. His wife, Julianna, is the dedicated director of Precious Lambs. They have one daughter, Daniela.
Pastor Jon Klein currently serves at Light of the Valley Lutheran Church in Layton, Utah, striving to reach out to a heavily Mormon population for the past eight years. Prior to this, he served for five years as an associate pastor at Christ Our Savior in Rockford, Michigan, focusing on evangelism and youth ministry. He currently serves as the Nebraska District, Special Ministries Coordinator and has served on the WELS Campus Ministry Committee.
Jon grew up in a small town in southern Wisconsin. He met his wonderful wife Wendy by literally bumping into her at Martin Luther College in New Ulm, Minnesota. They have two children: William and James. You can often find them exploring Utah, playing board games and video games, or watching movies.
Pastor Caleb Kurbis has been serving at Living Savior Lutheran Church in Asheville, North Carolina, since 2011. The Lord has blessed the outreach efforts of this congregation with growth to over 350 souls and, beginning in 2017, a second location in Hendersonville, North Carolina.
He serves on the South Atlantic District, Commission of Evangelism. He also has served as a presenter for Schools of Outreach and a circuit pastor. He loves outreach efforts and the encouragement of working with God's people to pursue the lost with the gospel.
He lives south of Asheville with his wife Sarah and their four children, Micah, Madelyn, Jonah, and Elias.
Pastor Greg Lyon has served as a campus pastor at Wisconsin Lutheran College, Milwaukee, Wisconsin, since the fall of 2015. Prior to this, he served Peace Lutheran Church in Sun Prairie, Wisconsin. His primary area of focus and passion is pastoral counseling.
He has been happily married to Amy since 2006 and they have three children, Samuel, Elliana and Addison.
Pastor Eric Melso graduated from Wisconsin Lutheran Seminary in 2017 and was assigned to plant a new church, Living Hope, in Chattanooga, Tennessee. He has enjoyed working with a small initial core group to grow the congregation through relational evangelism and community engagement. After meeting in five different worship locations, Pastor Melso and Living Hope are putting together plans to reach further into their community from their new worship facility, which was purchased at the end of 2021.
He has a passion for teaching his members to be everyday missionaries. He currently enjoys warm southern living along with his wife Jennifer and two daughters, Natalie and Annabelle.
Pastor Brian Pechman began his ministry at a mission in western Canada in 2000 with a desire to connect with the unchurched to connect them to Jesus. In 2006, he moved to serve a congregation in California with that same passion. In 2011, he moved to help establish an outreach–focused school ministry connected with an outreach-minded church in the community of Pooler, Georgia. He has served as the Chairman of Evangelism in multiple districts and as a consultant for various workshops.
He brings a love for the lost and more than twenty years of outreach experience in a variety of mission settings to the Everyone Outreach workshop. He lives in Savannah, Georgia with his wife, Angela, and five children, Caleb, Abigail, Naomi, Lydia and Asher.
Pastor Tyler Peil serves at Prince of Peace Lutheran Church in Salt Lake City, Utah. Previously he taught at Michigan Lutheran Seminary and pastored a congregation in northeast Nebraska. He has enjoyed serving on the Nebraska District Mission Board, as secretary of the Nebraska District, and as part of the WELS hymnal project.
Tyler and his wife Jill have been married for 20 years and are blessed with four daughters: Cassandra, Callie, Chloe, and Kenzie.
Pastor Chris Rathje graduated from Wisconsin Lutheran Seminary in 2007 and was assigned to a dual parish in eastern Arizona, Immanuel in Taylor and Springville.
In Arizona, Pastor Rathje was blessed to gain some experience working with mission churches as a member of the Apache Circuit, which is largely comprised of the congregations of the Apache Mission, the first world mission of WELS.
In 2014, he accepted a call to serve Abiding Hope, Ocala, Florida, and moved his family across the country, excited for a new ministry opportunity. After a little more than six years in Ocala, Pastor Rathje accepted a call to serve Redeemer in Fond du Lac, WI, where he has been serving since January of 2021, with an emphasis in the areas of outreach and school ministry.
Pastor Rathje has been married to his wonderful wife Beth, a dedicated WELS teacher, since 2004. They are blessed with three daughters, Kyah, Bryn, and Lily.
Pastor Steve Saatkamp has been serving at Ascension Lutheran Church (a mission church) in Jacksonville, NC since 2022. Before becoming a pastor, he was blessed to live in East Asia for two years, serve as a pastoral intern just outside of Atlanta, spend a summer in southeast Wyoming, and serve on multiple short range mission trips.
His mission experiences have instilled in him a passion for culture and culture shaping as it relates to outreach. He loves being able to facilitate Everyone Outreach workshops and his prayer is that God will continue to work through culture shaping efforts so that He might connect more people to Jesus!
He is supported by his wife Joanna and his daughters Nora and Margo.
Pastor Jonathan Scharf has been serving at Abiding Grace Lutheran Church in Covington, Georgia, for eighteen years, leading the congregation in an aggressive outreach program that God has blessed to build a congregation of 350 souls. He has served as chairman for the South Atlantic District's Commission on Evangelism and as a member of the District Mission Board. He has been a presenter for Schools of Outreach and serves as a counselor for the WELS for the Commission on Congregational Counseling. He brings a passion for the lost and an excitement to equip the saints with tools to fulfill their purpose.
Pastor Kurt Schaser has 21 years of ministry experience that has taken him to 3 different states (Colorado, Nebraska, and Wisconsin) and allowed him to serve in the high school, small church, and large church settings. He enjoys helping congregations move from talking about ministry goals to achieving ministry goals.
Kurt currently serves as the Gather/Go Pastor at St. John's in Newburg, WI, where he lives with his wife, Sarah, and their 3 children, Ian, Isaiah, and Maggie.
Pastor Paul Schulz has been zigzagging his way across the country since he graduated from the Wisconsin Lutheran Seminary in 2001.
From teaching at Luther Preparatory School in Watertown, Wisconsin, to serving two congregations in rural South Dakota to Peoria, Illinois, and finally to Chula Vista, California, where he has been serving since 2014.
In addition to serving Risen Savior Lutheran, Paul also leads a weekly service at Marine Corps Recruit Depot in San Diego. Paul believes every person has a unique story and getting to know that story creates opportunities to share the gospel.
Paul is married to Anna and has three daughters: Emily, Rachael, and Megan.
Pastor Paul Schupmann has served in the public ministry since 2007 as an associate pastor at St. John's Ev. Lutheran Church in Juneau, Wisconsin a congregation of over 1,000 souls. In 2018, St. John's expanded to Horicon, Wisconsin with a new mission start, and then in 2019, Salem Lutheran Church in Lowell, Wisconsin, merged with St. John's. St. John's is now one church with three different campuses (small, medium, and large).
Pastor Schupmann currently serves on the Western Wisconsin District Mission Board, WELS 100 New Missions Task Force, WELS Commission of Discipleship, Pastor Partners Mentoring Program, and specializes in mentoring larger congregations in School of Outreach gatherings.
He baptized and confirmed his wife, Regan. They have been blessed with two daughters: Riley (9) and Samantha (6). Pastor Schupmann helps coach his daughters' basketball team and enjoys cooking and grilling.  
Pastor Andy Schwartz is most blessed to serve as Sarah Schwartz's husband since August 8, 1998. He is also blessed to be the father of his children Katelyn (23) married to Jeffrey Parker, Benjamin (20), Emma (18), and Natalie (16).
Pastor Schwartz began his ministry in 2001 serving the souls of St. John's Lutheran Church in Florence, Wisconsin. In 2006 he accepted a call to serve Christ the King Lutheran in Bremerton, Washington. He currently serves as the Pacific Northwest chair for Discipleship and is blessed to serve another term on WELS Discipleship Commission.
Pastor Schwartz enjoys spending time relaxing with his wife and family, camping, board gaming, an occasional round of disc golf, and hopping on his mountain bike in repeated attempts to not get injured as he enjoys God's amazing creation in the Pacific Northwest.
Pastor Tim Spiegelberg grew up in Eagle River, Alaska, and Grand Junction, Colorado. He met his wonderful wife Jamie at Martin Luther Preparatory School in Prairie du Chien, Wisconsin.
Tim currently serves at a new church plant, Carbon Valley Lutheran Church, in Firestone, Colorado. Prior ministries include Northside Ministries in inner-city Milwaukee, Wisconsin; a rural setting in North Branch, Michigan (2003-2008) and urban ministry in Toronto, Ontario (2008–2014).
Tim has served on the board of evangelism for the North Atlantic District, as the board of evangelism chair for the Nebraska District, and as a coach for the Church Planter Network.
Tim and Jamie have four children, Theron (20), Drew (18), Keira (17), and Tatum (14). In addition to his love of his family and mission work, Tim enjoys skiing in fresh powder and hunting elk in the Rocky Mountains.
For more than 25 years, Pastor Tom Spiegelberg has been involved with gospel outreach. Once voted the most likely to be able to carry on a conversation with a phone book by his seminary class, Tom put his love for people and his love for Jesus to work.
Tom started his ministry as one of the first vicars in missions' settings serving in Port Charlotte and Cape Coral, Florida. He was assigned as a church planter in Boise, Idaho establishing Amazing Grace Lutheran Church in 1997. After five years, he took the call to serve the islands of St. Lucia, Antigua, and Grenada as a missionary, regional director, and circuit pastor for three schools, three churches, and over 30 called workers.
In 2018, Tom accepted a call to the growing congregation of outreach-minded believers at Saving Grace Lutheran Church in Mobile, Alabama. He serves on the Committee on Aid and Relief Task Force and as the circuit pastor for the CAC. Tom is married to Jennifer, who works as a public-school teacher. They have been blessed with three children: Bailey (Ph.D. program at Johns Hopkins University), Sofia (married and teaching at Atonement Lutheran in Milwaukee), and Ian (University of Minnesota.)
Pastor David Starr began his ministry in 2014 when he was assigned to Martin Luther College in New Ulm, Minnesota. He developed relationships with faculty, parents, and students at fourteen WELS high schools as he worked to encourage young people to use their gifts in public ministry. Since June of 2019, he has served Mighty Fortress Lutheran Church in Hiram, Georgia. For the last two years, he has been part of the leadership team for Camp South, a summer youth camp, and is taking the director role this year.
Pastor Starr lives with his wife Anne in Dallas, Georgia, with their two young daughters, Evelyn and Isla. In addition to loving his family and serving his ministry, he enjoys working on his grill and BBQ skills.
Pastor Doug Tomhave graduated from Wisconsin Lutheran Seminary in 1998 and was assigned to a mission start up in Verona, WI. He has served congregations in Fort Worth, TX; Hampton, Georgia and currently serves as pastor at St. Paul Lutheran Church in Lake Mills, Wisconsin.
Pastor Tomhave is married to Kelly, who currently teaches a 3/4K classroom at St. Paul. They have been blessed with four children (Henry, Grace, Claire, and Eleanor).
In addition to his congregational responsibilities, he serves as the chairman of the WELS Commission on Evangelism, advisor for Schools of Outreach, and a member and advisor on the WELS Commission of Congregational Counseling.
Pastor Collin Vanderhoof grew up in Appleton, Wisconsin, and graduated from Fox Valley Lutheran High School in 1996. He attended Martin Luther College where he met Tiffany Gehl. They were married in 2001.
While at Wisconsin Lutheran Seminary, he spent his vicar year in Nampa, Idaho. He graduated from Seminary in 2005 and was assigned to St. Paul Lutheran Church in Mauston, Wisconsin. While in Mauston, he helped start a new church in nearby Adams. He served in Mauston as an associate pastor until 2012, when he accepted the call to serve as pastor at Good Shepherd in Beaver Dam, Wisconsin. In 2019 he accepted the Lord's call to serve at Pilgrim Lutheran Church in Menomonee Falls, Wisconsin. He brings a passion for and experience in reaching lost souls to the Everyone Outreach program.
Pastor Matt Vogt has been blessed to serve in the mission field his entire ministry. Called to start a new church (Water of Life) in Las Vegas in 1997, he served there for over twenty years.  His ministry in Las Vegas included daughtering a second congregation in northwest Las Vegas, training pastors for and assisting in starting both a Korean ministry and an African immigrant/refugee ministry, starting a preschool/kindergarten ministry, and founding a new world mission field in Liberia. He served for a number of years as chairman of the Arizona/California District Mission Board and as a member of the WELS Board for Home Missions. Matt currently serves as a WELS Mission Counselor, working with five districts and seventy mission fields/congregations. 
His wife, Kelli, and their two boys, Noah and Caleb, still call Las Vegas home.
Pastor Mike Weigand has been serving at Faith Lutheran Church in Fond du Lac, Wisconsin since 2008. He served previously at Peace Lutheran Church in Holiday, Florida.
His areas of emphasis are adult spiritual growth, worship, and outreach. Pastor Weigand also serves as the Outreach Chairman for the Northern Wisconsin District of the WELS. He has a love for teaching and one on one instruction. He enjoys a wide variety of activities including wood working, sports, gardening and playing guitar and banjo.
He and his wife Cindy have two children, Lucas and Jenna, who are currently students at Winnebago Lutheran Academy.
Pastor Pete Zaferos grew up in the Milwaukee area and attended Luther Preparatory School in Watertown, Wisconsin where he met his wife, Melissa.
Pete currently serves as pastor at Mt. Olive Lutheran Church in Suamico, Wisconsin, and as the President of the Bay Area Life Center in Green Bay. Before serving in Suamico and Green Bay, Pastor Z served at a new church plant, Living Shepherd Lutheran Church in Laramie, Wyoming (2012–2019).
Pete and Mel have seven children, Olivia (13), Macy (11), Thomas (9), Julietta (7), Edith (4), Frederick (2), and Joseph (1). When he's not spending time with his family or serving in his various ministry roles, Pete enjoys fishing in the waters of Green Bay and its many tributaries.
Pastor Adam Zimpelmann has served in three congregations in Wisconsin (East Troy, South Milwaukee, and Fond du Lac). He has a passion for engaging people in spiritual conversations listening for ways to provide Christ as the answer to their spiritual hunger. He currently serves at Good Shepherd in Fond du Lac, Wisconsin as the lead outreach pastor.
Pastor Zimpelmann is married to his wife Lindsay with whom he has three sons, Asher, Ezra, and Noah.